In his capacity as a Contributing Writer for ENTERTAINMENT AND SPORTS LAWYER, Managing Attorney Jeremy Evans at California Sports Lawyer®, has written two articles in the Winter 2018 edition of the publication entitled, "Lawyers, Agents, and the Blurred Lines Regulating Talent Representation," and "Finding The Needle In The Haystack: Drafting Enforceable Arbitration Clauses In Online Entertainment Contracts."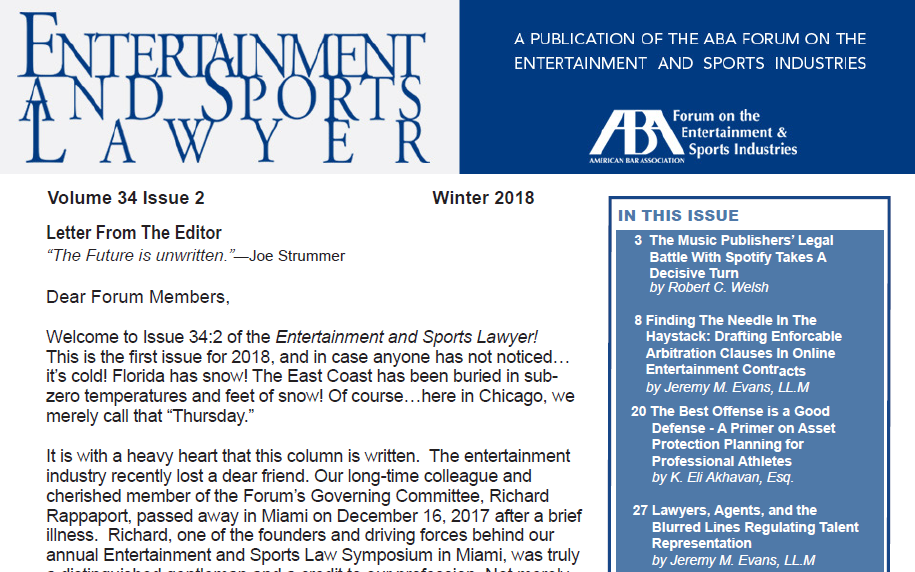 You can enjoy BOTH articles HERE.
The articles were originally published in the Winter 2018, Volume 34, Issue 2, edition of the ENTERTAINMENT AND SPORTS LAWYER magazine, the official publication of the American Bar Association Forum on the Entertainment and Sports Industries.
Jeremy M. Evans is the Managing Attorney at California Sports Lawyer®, representing sports, entertainment, and business professionals in their contract, negotiation, and intellectual property matters. Evans is an Outreach Captain for the Sports Lawyers Association and is an award-winning attorney and community leader based in Los Angeles. He can be reached at Jeremy@CSLlegal.com or via his website: www.CSLlegal.com.